Moshi is a small and lively Tanzanian market town. It is the capital of the Kilimanjaro region. What makes Moshi so unique is the fact that it is hidden behind one of the world's most beautiful scenery, the snow-capped Mount Kilimanjaro. No matter where you wander around in Moshi, the mountain is always within reach. The town is located at an altitude of 890m above sea level. Moshi is the kind of place where you can relax in a friendly atmosphere and it's easy to get in contact with the locals. Spend a few days in Moshi and see what it has to offer.
Climb Mount Kilimanjaro
Lets get the obvious ones out of the way first! Between 35,000 and 50,000 people climb Kilimanjaro every year. If you're looking for a challenge it doesn't come bigger than this.
There are multiple routes to choose from varying in degrees of difficulty, scenery and number of days required.
If you don't fancy climbing all the way to the top, you can do a day trek/trip. This gives you a taste of the mountain. Plus you can tell people you've 'climbed Kilimanjaro'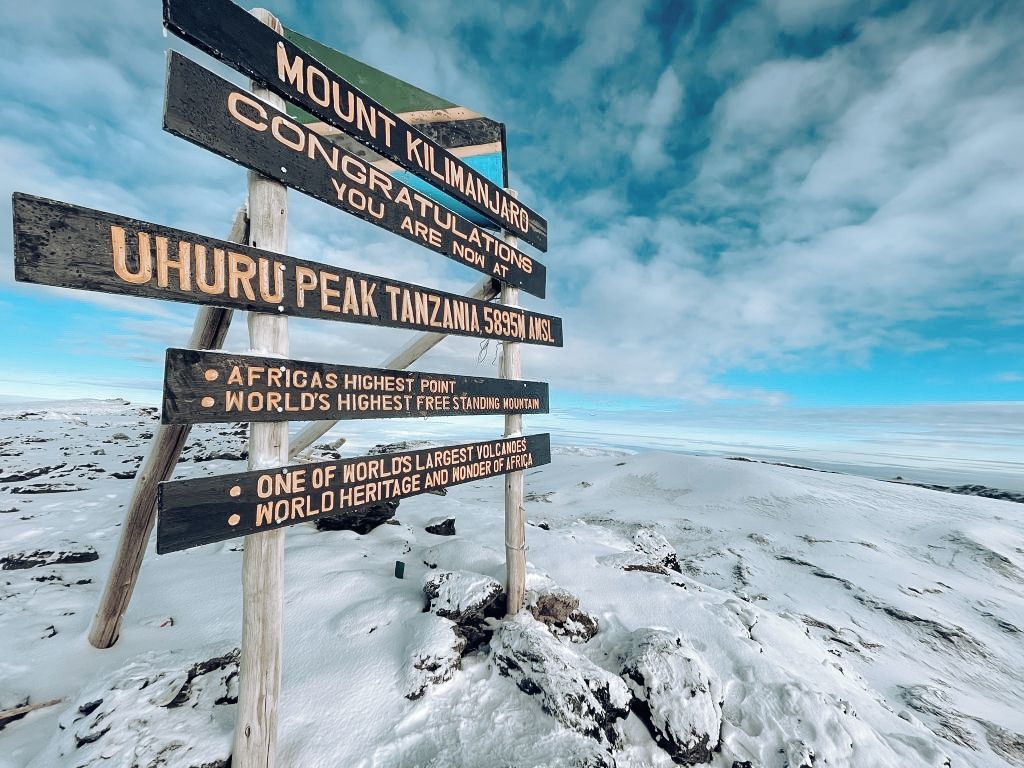 Do you want to experience Kilimanjaro at close range without climbing the summit ? Yes, It's very possible ! This day trip takes you on the popular Marangu route to the first mountain hut, the Mandara Hut at 2720 meters.
Visit the Maundi Crater, where you can enjoy wonderful views of Mount Kilimanjaro, Northern Tanzania and Kenya.
An ideal tour for the beginner to get to know the fascinating landscape of Kilimanjaro.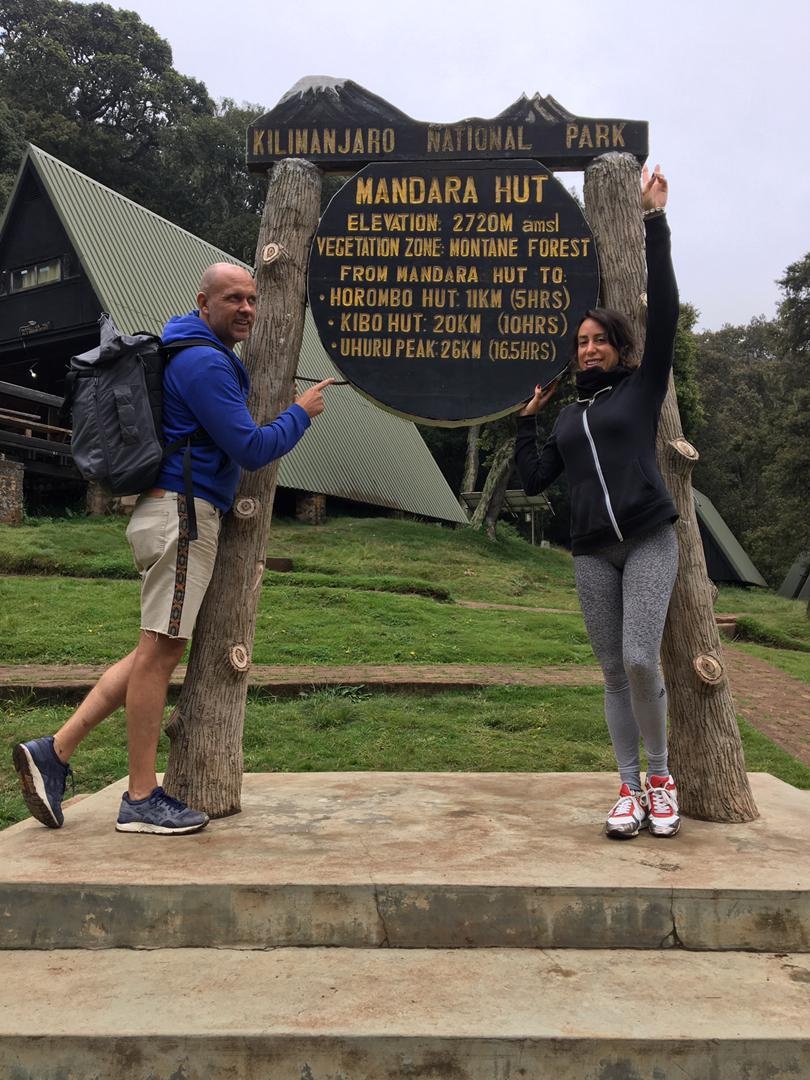 This very impressive Waterfall is one of the tallest in the area, spewing crystal clear glacier water 70m into its basin. The beautiful path leading to Materuni Waterfall is located 2500m above sea level
It traverses thru valleys and hills covered by tropical rainforest, past coffee, banana and avocado "shambas", the Kiswahili word for farms. On a clear day great views of Kibo and Moshi town can be seen. The hike to the base of the Waterfall can be demanding and hiking boots are recommended. As this trip is so close to Moshi town it is ideal for those people with limited time but who would still like to see some of the nature and beauty that this region of Tanzania has to offer.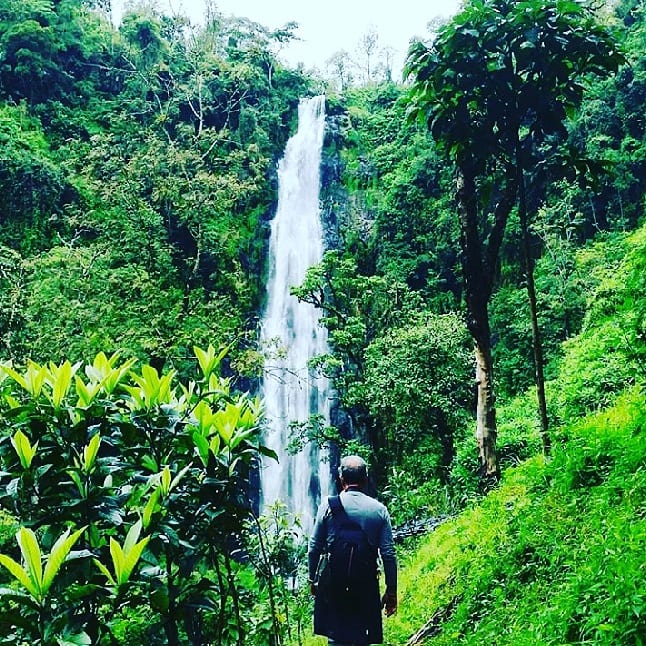 Materuni is one of the few villages of wonder in Northern Tanzania sitting at the foot of Mount Kilimanjaro. The village is blessed with full of all the beauty worth much visiting for holiday, week-end outing or vacation. While in the village, scenic view of Moshi Town and Mount Kilimanjaro is astonishing. This green village with fresh air from green vegetation welcomes visitors to explore the beauty of the land and cultural heritage of the Chagga people.
A cultural experience such as banana beer brewed or coffee roasted the traditional way can be added to your hike.
From Materuni Village We Will Walk Some 30 Minutes To The Waterfall. The Walk Itself Is Extremely Interesting, As You Will See Some Smaller Waterfalls And Lots Of Waterways Which Are Part Of The Irrigation System Of The Local Farmers Who Grow Coffee, Bananas And Many Other Fruits And Vegetables.
Kikuletwa Hot Springs or Chemka hot springs are an unexpected paradise hidden in the desert scrub outside the town of Boma.
Situated about 35 kilometres from Moshi, in the heart of the Sanya Plains, lie the Rundugai Springs. They are an extraordinary phenomenon, rushing up from underground in the middle of parched and dusty landscape. Locally called Chemka, meaning boiling, this refers to the way in which the water appears to boil as it emerges from underground. In fact, the water is not hot rather it is a pleasant temperature! This is a good place to visit for a picnic and a swim too. And the views of Kilimanjaro on a clear day are also fabulous. Unfortunately, the water is full of fluoride which means the local people can't use it for drinking. The crystal-clear, turquoise waters surrounded by palm trees and winding roots offer a picturesque spot for a relaxing afternoon swim.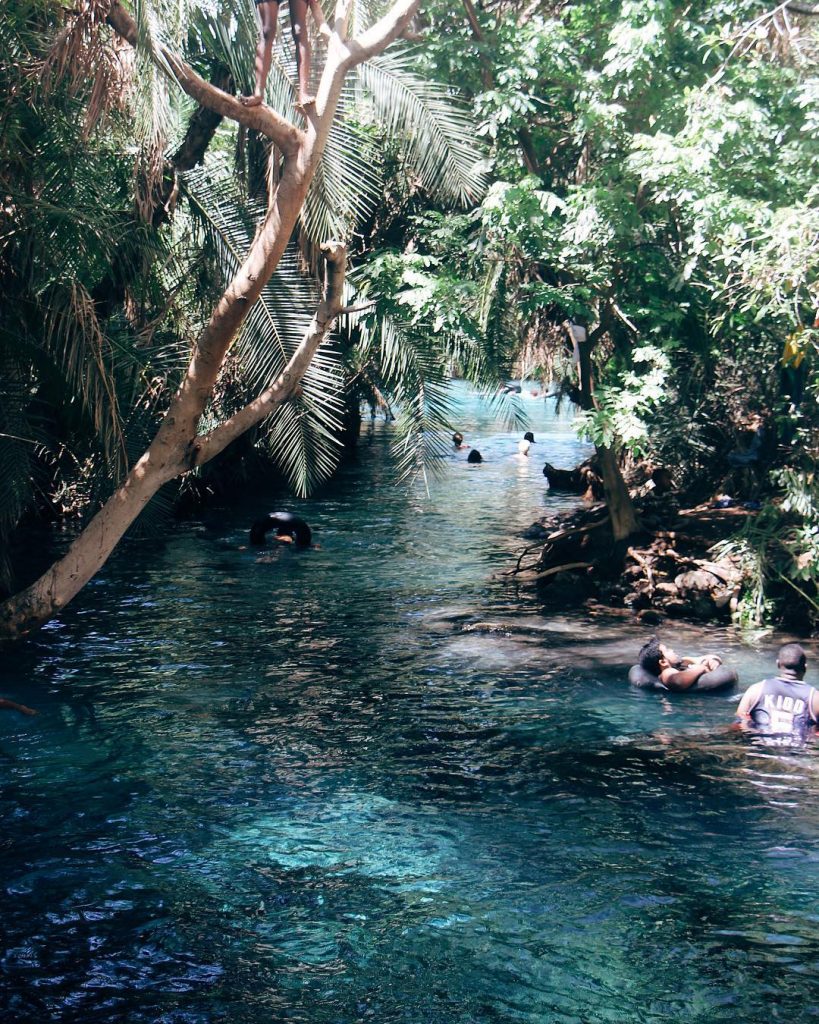 The spring is actually rather big and over 6 meters deep in some places although you can see the bottom through the crystal clear waters no matter where you are. You can also wrap your arms around one of the roots and just let the water flow by as you drift off into a daydream listening to the monkeys and birds in the treas.
You can have as much fun or relaxation as your heart desires and your mind and body needs.
Experience life on the slopes of Mount Kilimanjaro and visit Marangu, a quaint village that offers a fascinating insight into the lives of the Chagga people. The village itself is located in the foothills of Africa's tallest mountain, about 40 km from Moshi town.
This one-day tour takes in various natural and cultural sites on the surrounding slopes.
Highlights include:
Waterfalls – Make a splash in the mountain water of Kilimanjaro and enjoy stunning views of the surrounding valleys.
Chagga Museum – The Chagga culture and history can be explored by visiting the museum. There are several exhibitions including a reconstructed thatched Chagga house.
Underground Chagga Tunnels – These were used by the Chagga people to hide themselves from the enemies during clan wars.
Coffee and Banana Farms – Visit coffee farms and a local home where you can enjoy local dishes and learn the traditional process of preparing coffee from bean to cup.
Local Chagga bars and drink the traditional beer.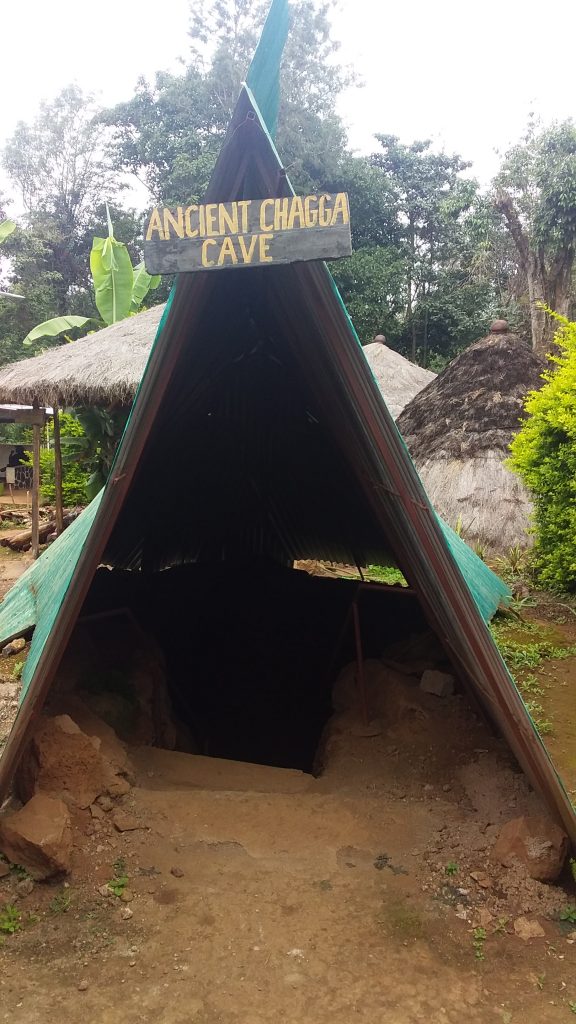 Lake Chala Day Trip
Split by the border of Kenya and Tanzania, Lake Chala is an impressive, beautifully tranquil crater lake.
It can be done as a day trip, but to truly appreciate the place it's worth staying over night.
The tented lodges are excellent, however, if you're on a budget then you can also bring a tent and stay at the campsite there.
Just a heads up, Lake Chala is in a Wildlife Management area. This means that you'll need to pay a government fee on the way in before you actually get to Lake Chala.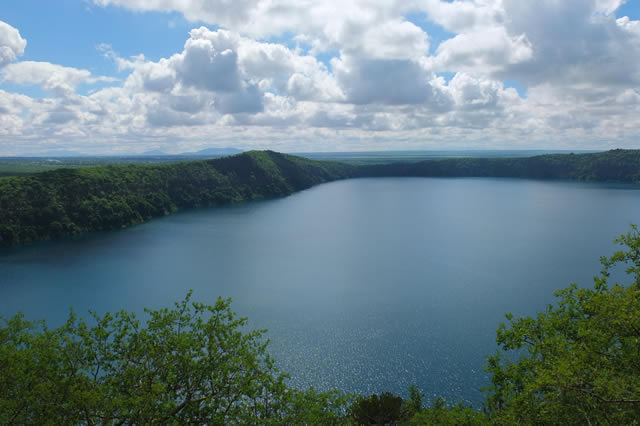 Run The Kilimanjaro Marathon
If you're a runner then the Kilimanjaro Marathon is an unmissable event!
Every year at the beginning of March thousands of people, from total beginners to professional athletes, descend on Moshi to run the 5km, 21km or 42km.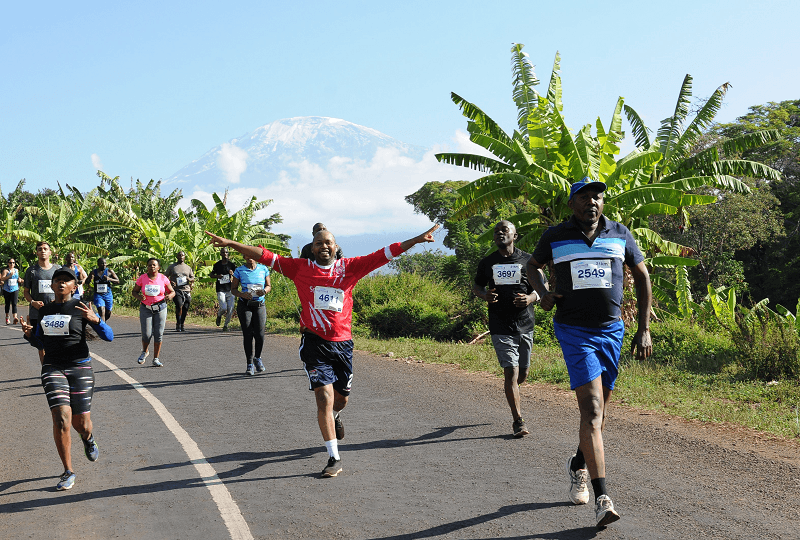 If you're not around in March then there's still plenty of great running routes to be discovered in and around Moshi.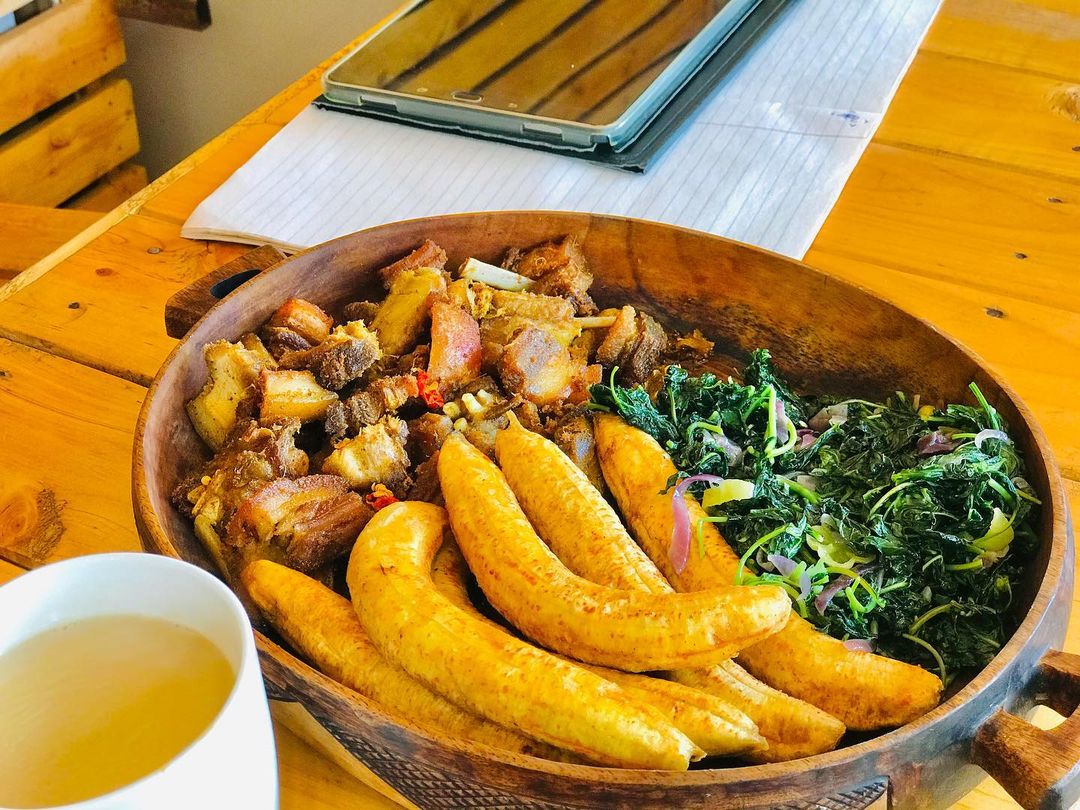 Enjoy Local Restaurants in Moshi
There are lots of great restaurants and cafes in Moshi. Here are few of most preferred:
Indo Italiano: They serve Italian and Indian food.
More Than A Drop Restaurant: The restaurant at More Than a Drop serves great vegetarian food and it's also a vocational school training young women in the hospitality industry.
Union Coffee: One of the most popular hangouts in town. Menu includes sandwiches, salads and cakes. Best coffee in town.
Kuonana Africa Restaurant:Great place to get some very local twists on African food (Swahili delicious meals). They also have a nice bar.
Kilimanjaro Coffee Lounge: Relaxed atmosphere and a good selection of food, including sandwiches, pasta, soup and salad. Great coffee.
Maembe Garden: Maembe is Swahili for mango and the restaurant is named after the mango trees found in the garden of this restaurant. they serve a good mix of food.
The Secret Garden Hotel: They have a nice restaurant and bar with views of Kilimanjaro mountain.
Jay's Kitchen: Really popular restaurant, serving Korean food.
Milan's: Indian vegetarian restaurant, popular with both locals and visitors.
Kili Kahawa Lounge: Serving a mix of foods including burgers, sandwiches, salads, African dishes and snacks.
Mimosa Restaurant : Popular restaurant on the edge of Uhuru Park, they have a varied menu and hold regular events. Nice place for brunch.
El Rancho: From the name, you might think that this was a Spanish or Mexican restaurant, however, it's known as one of the best Indian restaurants in town.
The Kitchen Flavour Restaurant: Nice place with great food and a great atmosphere. Veggie and vegan options.